Fixed Port Web Managed Ethernet Switches
HPE OfficeConnect 1910 24 Switch(JG538A)
Specifications:
Differentiator:
HPE OfficeConnect 1910 24 Switch is a 24 port Fast Ethernet advanced smart managed switch.
Ports:
(24) RJ-45 autosensing 10/100 ports
(2) SFP dual-personality 1000 Mbps ports
Supports a maximum of 24 autosensing 10/100 ports plus 2 1000BASE-X SFP ports, with optional module
Memory and Processor
MIPS @ 500 MHz
32 MB flash
Packet buffer size: 512 KB
128 MB RAM
Latency
100 Mb Latency: < 5 µs
1000 Mb Latency: < 5 µs
Throughput
Routing/switching capacity
Management Features
IMC – Intelligent Management Center
Limited command-line interface
Web browser
SNMP manager
IEEE 802.3 Ethernet MIB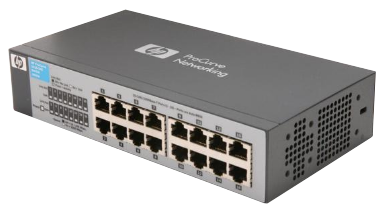 HP J9560A#ABA Unmanaged V1410-16G Switch
Specifications:
16 x RJ45
Lifetime Warranty with Next Day Replacement
8K MAC Address Table
Throughput: 32 Gbps
Key Features:
Unmanaged Gigabit and Fast Ethernet switches
Green Features results in low power consumption
Fanless for silent operation
Quality-of-Service (QoS) support
Industry-leading Lifetime Warranty
The 4-Port USB KVM Switch is an electronic keyboard/video/mouse (KVM) switch that controls 4 PCs from a single keyboard, monitor, and mouse. It has complete USB keyboard and mouse emulation for simultaneous PC's boot-up process. The user can select different PCs by using front-panel push buttons, or letting the KVM Switch do an automatic scan. Setup is fast and easy, plugging cables into their appropriate ports is all that is entailed. There is no software to configure.
NOTE!! This unit does not include KVM Cables and KVM Cables need to be purchased separately for the amount of PC's connected to the KVM switch and are available at 1.8 Meter USB KVM Cable. You will need one KVM cable for each PC connecting to the KVM Switch.
Features
Compact size, easy, portable.
Support Microsoft Intellimouse, Logitech Net Mouse, etc…
Works on any USB compatible hardware platform and with all operating systems.
Hot Plug – Add or remove connected PCs for maintenance without powering down the KVM switch or PCs.
Smooth Control — User can select any PC by the push button on the unit.
Intelligent Keyboard Emulation – Keyboard LED Status and typematic rate are recorded and restored while switching amongst PC's.
LED Display for easy status monitoring.
Auto Scan Mode for monitoring PCs.
Very High Video Quality – up to 1920×1440, Bandwidth: 200MHz.
No Software Required.
No external power required.